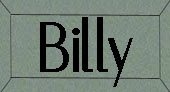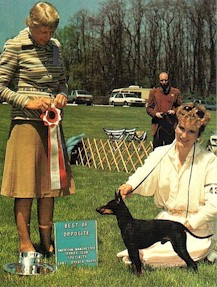 BIS Can. Ch. Golden Scoops Annabilly, CROM
August 4, 1984 - March 10, 1997
Breeder: Elsie Puleo & Greg Bradley
Owners: Tara-Lynn & Wendy Kelly
Billy was our first show dog -- and one of the driving forces in our continued participation in the sport of purebred dogs. When we first began, we never dreamed Billy would do as much for us as he did -- and we feel blessed to have owned and loved such a wonderful dog.
Billy became one of the only TMT's to receive a Best In Show in Canada. Though he would make only one trip to the U.S. Billy certainly made an impression, taking both Best of Opposite Sex and Best of Winners at the 1987 AMTC National Specialty.
Billy combined all of the elements of a great show dog, as the Nationals' judge Mrs. Doris S. Wear commented: "[he was] a beautiful headed dog, very typey [and] moved well." On top of that, Billy was known to "sparkle" in the ring. A snapshot taken of him during the '87 National was used by the AKC Gazette (The American Kennel Club's all-breed magazine) several times over the ensuing years to illustrate ring presence -- something he never lacked!
Billy was inducted into the Canadian Manchester Terrier Club Record of Merit posthumously in 2001.
During his career at stud Billy also sired numerous champions including:
Ch Ryas Batteries Not Included, UD, FD, AD

Ch Fwaggles Spud D'Ericlam

Ch Fwaggles Justice at Edelmar

Snippy
BIS Ch Fwaggles Don't Snip It Clip It

Dixie
BISS Ch Fwaggles Dixie D'Ericlam

Jada
Ch Fwaggles Jada
---
Main Page

About Manchesters

About Fwaggle
Meet Our Dogs

Upcoming Litters

Breed Links

News
---